Spotlight on the Standards Approval Board; independent, unbiased oversight
Standards Approval Board Chair Vaughan Renner challenges anyone to walk through a typical day and consider what they've encountered that has been impacted by standards.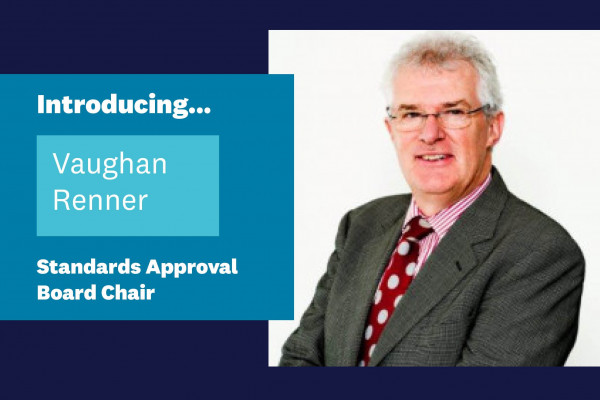 One of the strengths of standards development through Standards New Zealand comes from our unbiased and independent oversight. Part of this system involves the Standards Approval Board, an independent statutory board set up under the Standards and Accreditation Act 2015, established in March 2016 and responsible for approving the membership of standards development committees and standards that become New Zealand Standards.
Board Chair Vaughan Renner takes us through what the board do. Vaughan is a director and governance advisor with more than 20 years' executive and management experience in the automotive sector in New Zealand and Australia. An engineer by training, he was a member of the Standards Council from 2005 until February 2016 and has significant experience with standards and standardisation, both as a user and in governing the development of standards.
'My journey with standards started a long time ago in the automotive industry when I was with Dunlop tyres in Upper Hutt when the ISO 9000 standard was introduced to the business. Those were formative years where I harnessed a focus on quality, a word synonymous with standards.'
'Working in standards development has run through my core. I was involved in helping shape Standards New Zealand as it is today, from an autonomous crown entity prior to 2016 to part of the Ministry of Business, Innovation and Employment today. As a representative of the group that approached the Minister of that day for a new model, I was involved in the transition to the new cost-recovery model. Standards New Zealand is now much better connected with Regulators and can work better towards increased trade and growing New Zealand both domestically and offshore.'
'People often wonder why they should pay for standards, especially now Standards New Zealand is part of a government ministry. It's simple really. The cost-recovery model ensures standards development is driven by what the market needs and is looking for rather than being influenced by government.'
'That's just as important as the role of the Board as a system and check to make sure there is fair representation and not a monopoly by any one private or public organisation in the development of a standard. The Standards Approval Board is not a traditional governance board but was put in place, and appointed by the Minister, to sit between development committees, regulators, and commercial interests, with the authority to challenge. It's that independence and the systems and checks that keep standards unbiased and support the good consensus-based model Standards New Zealand operates.'
The group of seven
'We are a diverse group of seven senior professionals from a range of disciplines who champion the role of standards and act as a powerful driver or lever for consideration of standards across industries. Our three responsibilities include:
Approving membership (and chairperson) and establishment of committees.
Approving of standards to be published once the work has been done, as a final tick for process and consensus.
Advising the Minister on standards-related issues.'
'In order to stay abreast of standards-related issues and improve the understanding of standardisation, we regularly invite stakeholders to attend our monthly Board meetings. Board members often comment about how beneficial these engagements are.'
Build upon international
'One key approach we consider is to always look to avoid reinventing the wheel. Adopting international standards is efficient and even if we need to tailor to New Zealand's distinct users, they can form a good base, particularly for shared problems that need consistent solutions like climate change or for safety around kids toys and choking hazards. Standards can also help show provenance around New Zealand's produce to overseas markets like New Zealand lamb or manuka honey.'
'I've seen the role of standards change over the years. They've become increasingly varied and there are options for standardisation in all sorts of weird and wonderful places – take the QR codes for example that we're all now so familiar with. Nobody thinks about standards but I challenge anyone to walk through a typical day and then consider what they've encountered that has been impacted by standards. Standards work really well when you don't notice.'
'Standards used to be all about quality and safety, now however they underpin so much more, from wellbeing to shared economic growth. Sometimes we need regulation, sometimes we need law. But other times standards are the right kind of solution when you don't need a sledgehammer to crack a walnut! It may sound clichéd but if you didn't have standards the world wouldn't go round!'