Celebrate a shared vision for a better world this World Standards Day
Nobody sees standards, but without them everyday life as we know it wouldn't function. That's why we're acknowledging all those behind standards development this World Standards Day.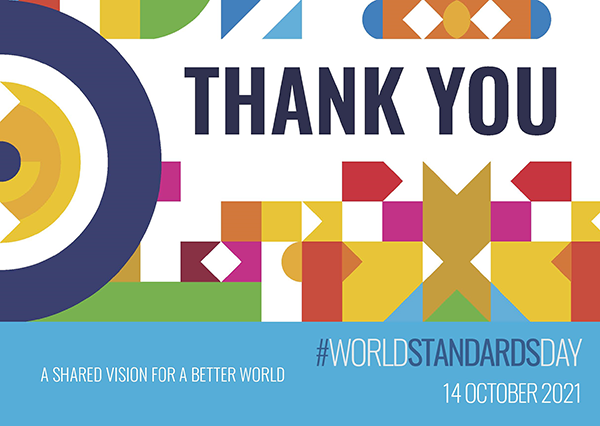 Nobody sees standards, but without them everyday life as we know it wouldn't function and we would be a lot less safe. Your house could be constantly flooded because water pipes for your shower aren't connected correctly, your breakfast might contain all sorts of nasties, and your PC might have a virus with your personal data leaked to who knows where, and your energy bill could be sky high. The implications actually go much wider than that.
Each year on 14 October, the members of international standards organisations IEC, ISO and ITU celebrate World Standards Day, paying tribute to the collaborative efforts of thousands of experts worldwide who develop the voluntary technical agreements that are published as international standards and keep our world in shape.
World Standards Day 2021 is about our shared vision for a better world. A world that is better, fairer and more sustainable. A world that can be enjoyed today and protected for future generations.
It is in this spirit that Standards New Zealand is celebrating World Standards Day, acknowledging the tools, codes, guides, specifications and parameters that offer practical solutions we can all stand behind.
Standards matter
With standards in place, everyone in on the same page within a given industry. They set the benchmark for consistency and agreed good, safe practice. They break down barriers to trade for the primary and manufacturing sectors and set specifications for the right way to build. They offer guidance on how to minimise impact on the environment, or ensure equipment works properly during surgery. They provide parameters for handling data so your banking, business and personal data are kept safe and systems can talk to each other. Standards are the building blocks to addressing the United Nation's Sustainable Development Goals so we can live in a world with better equity and resilience.
With around 9,000 international and joint Australian/New Zealand standards and nearly 3000 New Zealand specific standards, there's a standard for nearly everything. From coffee to condoms, dog breeds to fat content of milk, electric vehicles to allergens and water to wheelchairs.
Standards matter in your world
Fact – you've benefited from standards. There are three ways standards will impact your life.
Everyone is a consumer. You may never even notice the small NZS, AS/NZS or ISO number in the paperwork or stamped on the item. But you'll want to know it's there and tested to agreed standards so appliances are safe to use or food safe to eat.
Governments use standards to help set the technical benchmark within regulations. Because they are developed by a range of experts from across the sector and are consensus built, they incorporate a balance of views and reflect agreed practices within industry.
Business and industry use standards to give confidence to consumers. Standards are part of a system of checks and balances that ensure manufacturers operate safely and produce quality goods that people trust. Standards help break down barriers to trade so that there is a set benchmark for goods between different countries in global markets.
Thank you for shaping a safer world
Behind standards development lies collaborative groups of industry experts on committees who have come together to agree on guidance, and confirm the right way to do things and what to include to cover all users' needs. Standards represent 'a shared vision for a better world'. Standards New Zealand thanks all those who have participated in the development, consultation and review of standards to ensure that we are contributing to this vision.
Standards New Zealand is proud to work with regulators and industry bodies in the development and ongoing revision of standards for New Zealanders. We thank the hundreds of dedicated committee members who have represented their industry from across public and private sectors, giving time and expertise to the development of standards.
ISO describe standards development as a 'testament to the power of cooperation and the belief that we are stronger than the sum of our parts'. When people come together, good things happen.
World Standards Day is about acknowledging those good things, the standards at the heart of our modern life. So, look around you and see if you can spot the references to standards that means someone has considered your best interests.
Find the many ways to get involved in standards development.