Primary industries
New Zealand's primary sector is a key part of our economy, and finding new, smarter ways of working will support industries to remain sustainable.
By streamlining processes, increasing efficiency and developing safety measures, Standards New Zealand helps contribute to New Zealand's export potential and creating environmentally sustainable practices.
Standards help to promote effective farming methods while ensuring that everything in the supply chain – from farm to fork – meets adequate levels of safety and quality. Standards also foster the sustainability and sound environmental management that contribute to a better future.
Who benefits from Primary Industry standards?
Industry – Farmers, manufacturers and food producers benefit from standards. By providing guidelines for agreed best practice and specifications for tools, machinery and other products and processes, standards ensure production is seamless and facilitates global trade.
Consumers – Standards help increase efficiencies, sustainability and traceability in food production. They also provide a common international language, widening opportunities for cross-border trade.
Regulators – Standards help organisations meet legal and industry requirements by setting benchmarks for the functional safety, traceability, and quality of everything from the machinery and materials used to the final food products. Developed through expertise and consensus, they provide a sound basis for implementing public policy.
'Standards set benchmarks. You may think that as a company you are doing OK but you don't really know until you benchmark against those standards.' Quality Manager, New Zealand Sugar Company.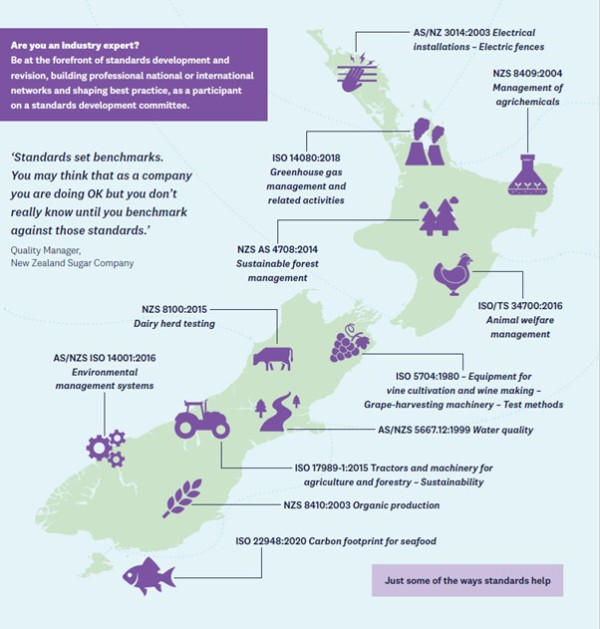 Description of image
Are you an industry expert?
Be at the forefront of standards development and revision, building professional national or international networks and shaping best practice, as a participant on a standards development committee.
'Standards set benchmarks. You may think that as a company you are doing OK but you don't really know until you benchmark against those standards.' - Quality Manager, New Zealand Sugar Company
Just some of the ways standards help:
ISO 14080:2018 Greenhouse gas management and related activities
AS/NZ 3014:2003 Electrical installations – Electric fences
NZS 8409:2004 Management of agrichemicals
ISO/TS 34700:2016 Animal welfare management
NZS AS 4708:2014 Sustainable forest management
NZS 8100:2015 Dairy herd testing
ISO 5704:1980 Equipment for vine cultivation and wine making – Grape-harvesting machinery – Test methods
AS/NZS 5667.12:1999 Water quality
AS/NZS ISO 14001:2016 Environmental management systems
ISO 17989-1:2015 Tractors and machinery for agriculture and forestry – Sustainability
NZS 8410:2003 Organic production
ISO 22948:2020 Carbon footprint for seafood
Discover more about our work in the sector:
Want to keep updated on Primary Industry?
Sign up to 'Focus on primary industries' enewsletter in your free account preferences
Follow specific standards through 'Keep-me-up-to-date'
Use the 'Primary industries' tag for related articles under News and Updates
Represent the sector
You could have a role to play in shaping the future of standards you and your peers use. If you have skills, experience or a unique perspective in your industry you could contribute on a standards development committee – whether for New Zealand, joint Australian/New Zealand or international ISO or IEC standards. Complete an expression of interest here:
Join a standards development committee
Sector brochure
Want to commission a standard, get involved in a committee or learn more about the value of standards to the sector? Download our summary brochure for discussion with your business leaders.