Environment
Now more than ever industries need to consider climate change-related risks and sustainability opportunities.
With increasing stakeholder pressure, shifting customer preferences, emission caps, adaptation strategies, regulatory complexity, and a transition to a low carbon future, the landscape is changing fast.
Standards help organisations and communities become climate-resilient and environmentally sustainable for a better world. Be at the forefront of positive change, sustainability, responsibility and good practice with industry-related national and international standards.
Everyone benefits from Environmental standards
Industry – Standards help businesses not only adhere to increasing regulatory requirements but address their own environmental impact, improve energy efficiencies and put robust risk management processes in place.
Regulators – Consensus-based standards are a solid base to create public policy that meets New Zealand and international commitments.
Consumers – With standards, businesses and authorities can reduce environmental impact, and improve on infrastructure technologies, disaster management and energy efficiency. Standards give consumers more confidence.
When they save money, reduce carbon use and benefit consumers, integrating standards is simply a no brainer! Standards matter now, more than ever.' Brian Fitzgerald, Technical Lead, EECA.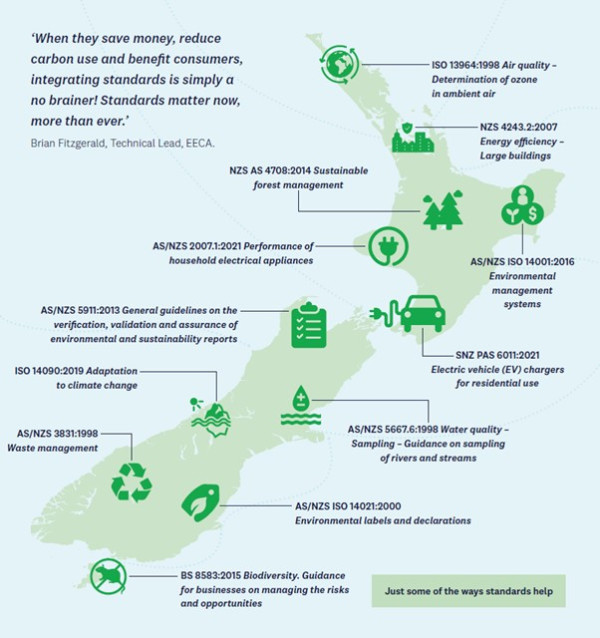 Description of image
'When they save money, reduce carbon use and benefit consumers, integrating standards is simply a no brainer! Standards matter now, more than ever.' Brian Fitzgerald, Technical Lead, EECA.
Just some of the ways standards help:
ISO 13964:1998 Air quality – Determination of ozone in ambient air
NZS 4243.2:2007 Energy efficiency – Large buildings
AS/NZS ISO 14001:2016 Environmental management systems
NZS AS 4708:2014 Sustainable forest management
AS/NZS 2007.1:2021 Performance of household electrical appliances
SNZ PAS 6011:2021 Electric vehicle (EV) chargers for residential use
AS/NZS 5911:2013 General guidelines on the verification, validation and assurance of environmental and sustainability reports
AS/NZS 5667.6:1998 Water quality – Sampling – Guidance on sampling of rivers and streams
ISO 14090:2019 Adaptation to climate change
AS/NZS ISO 14021:2000 Environmental labels and declarations
AS/NZS 3831:1998 Waste management
BS 8583:2015 Biodiversity. Guidance for businesses on managing the risks and opportunities
Discover more about our work in the sector:
Environmental Management
The ISO 14000 family of standards is firmly established as the global benchmark for promoting good practice in environmental management and design. This standard helps organisations achieve their objectives in an environmentally sustainable manner and covers best practice in:
Financing climate change activities
Quantifying greenhouse gas emissions for cap-and-trade schemes
Measure and monitoring climate change for offsetting credits
Communicating on environmental performance
Integrating environmental management in a low carbon strategy and policies
Designing for the environment and carbon neutrality
Assessing lifecycles
Gain certification against ISO 14001:2015 Environmental Management Systems
New environmental management collection coming soon to the webshop.
Want to keep updated on the Environment sector?
Sign up to 'Focus on the environment' enewsletter in your free account preferences
Follow specific standards through 'Keep-me-up-to-date'
Use the 'Environment and sustainability' tag for related articles under News and Updates
Represent the sector
You could have a role to play in shaping the future of standards you and your peers use. If you have skills, experience or a unique perspective in your industry you could contribute on a standards development committee – whether for New Zealand, joint Australian/New Zealand or international ISO or IEC standards. Complete an expression of interest here:
Join a standards development committee
Sector brochure
Want to commission a standard, get involved in a committee or learn more about the value of standards to the sector? Download our summary brochure for discussion with your business leaders.