Building and construction
New Zealand's building and construction sector is critical to the country's economy and well-being.
With a growing population, and evolving needs, there is strong demand for a high-quality, safe and sustainable built environment.
The sector needs standards. They help to ensure buildings and civil engineering works are safe and fit for purpose. They cover virtually every part and process of the construction project, from the soil it stands on right through to the roof. Many standards form part of the compliance requirements of the New Zealand Building Code.
Standards also support new technologies and innovations with solutions that factor in local and global challenges like demographic evolution, natural disasters and climate change.
Who benefits from building and construction standards?
Industry – By establishing agreed design and manufacturing specifications and processes, standards ensure consistency and reliability, and create confidence.
Regulators – Incorporating best-practice test methods, processes and harmonised terminology, standards form a technical basis for regulation and policy development.
Consumers – When standards are integrated throughout every aspect of a build – from design to completion – consumers have more confidence the buildings they live and work in are safe, efficient and durable.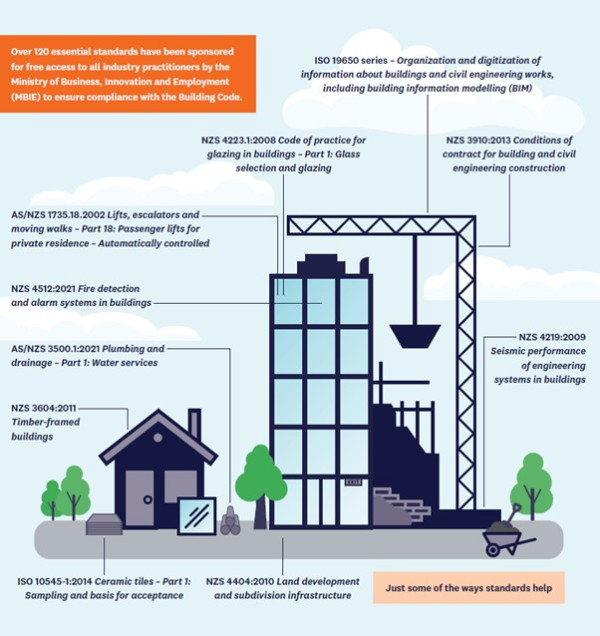 Description of image
Over 120 essential standards have been sponsored for free access to all industry practitioners by the Ministry of Business, Innovation and Employment (MBIE) to ensure compliance with the Building Code.
Just some of the ways standards help:
ISO 19650 series – Organization and digitization of information about buildings and civil engineering works, including building information modelling (BIM)
NZS 4223.1:2008 Code of practice for glazing in buildings – Part 1: Glass selection and glazing
NZS 3910:2013 Conditions of contract for building and civil engineering construction
AS/NZS 1735.18.2002 Lifts, escalators and moving walks – Part 18: Passenger lifts for private residence – Automatically controlled
NZS 4512:2021 Fire detection and alarm systems in buildings
AS/NZS 3500.1:2021 Plumbing and drainage – Part 1: Water services
NZS 4219:2009 Seismic performance of engineering systems in buildings
NZS 3604:2011 Timber-framed buildings
ISO 10545-1:2014 Ceramic tiles – Part 1: Sampling and basis for acceptance
NZS 4404:2010 Land development and subdivision infrastructure
Discover more about our work in the sector:
Strategic partnership agreement
An ongoing commitment to keep standards relevant.
Building Performance have committed to a further 5-year programme of work with Standards New Zealand that will see the review and revision of standards and adoption of international standards, to build upon the current library of good practice advice they currently support.
Building on the foundations of a great partnership with BSP
Sponsored Standards
The building regulator Building Performance sponsors free access to 131 standards helping support those in related industries to do the right thing – covering a range of needs from earthworks and concrete, timber and steel construction to glazing, fire safety, insulation and lighting. New Zealand is one of few countries that provides funded access to standards to ensure our buildings are safe, resilient, and effective.
Sponsored building-related standards
Keep updated on the building and construction sector
Sign up to 'Framing Up Building and Construction' enewsletter in your free account preferences.
Follow specific standards through 'Keep-me-up-to-date'.
Use the 'Building Construction and Fire Prevention' or 'Engineering' tags for related articles under News and Updates
Represent the sector
You could have a role to play in shaping the future of standards you and your peers use. If you have skills, experience or a unique perspective in your industry you could contribute on a standards development committee – whether for New Zealand, joint Australian/New Zealand or international ISO or IEC standards. Complete an expression of interest here:
Join a standards development committee
Sector brochure
Want to commission a standard, get involved in a committee or learn more about the value of standards to the sector? Download our summary brochure for discussion with your business leaders.