Consolidation and collaboration at the core of Ngā Paerewa health and disability services standard
Newly developed Ngā Paerewa Health and Disability Services standard brings stronger focus on equity and supports providers to meet their Te Tiriti o Waitangi obligations.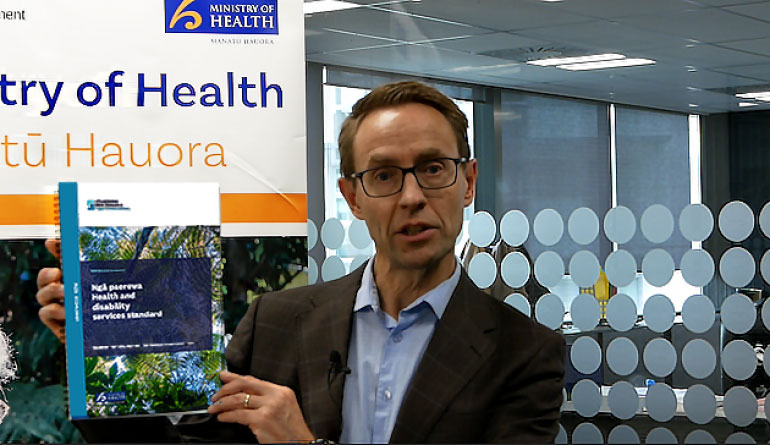 The newly developed Ngā Paerewa Health and Disability Services Standard (or NZS 8134:2021 Health and disability services) developed through partnership between the Ministry of Health and Standards New Zealand, consolidates four individual standards from across fertility services, abortion services, home and community services and health and disability services.
Reflecting a shift towards more person and whānau-centred services, the updated standard has a stronger focus on equity and supports providers to meet their Te Tiriti o Waitangi obligations. The standard plays a vital role in our health and disability system by outlining the steps providers must take to ensure they're delivering safe, quality health and disability services.
Developed by the sector, for the sector
The standard is the result of a true collaboration with the sector. The initial consultation overseen by the Ministry of Health involved over 300 people and organisations across a number of workshops and working groups. This was later followed by a massive 1,400 individual comments from public consultation considered by the expert P8134 Standard Development Committee, chaired by Kerri Butler, Lived Experience Advisor, Mental Health. Participants represented a diverse range of views and perspectives, including health providers, Iwi, people and whānau with lived experience of these services, government departments, consumer organisations, professional associations, district health boards, academia, and auditing agencies.
The following principles guided the review through underpinning decision-making throughout the two year process:
Achieving Māori health equity
Accessible health and disability services
Partners with choice and control
Best practice through collaboration
Standards that increase positive life outcomes
Ruihua Gu, the Manager of HealthCERT who regulate the sector, says she's proud of the updated standard and what's been achieved by all who contributed.
'First and foremost, the standard must meet the needs of those it impacts; the people using these services, the providers delivering those services, and the people working within those services. It should also reflect the services that are being provided today, while being flexible enough to allow for changing models of care - sustainability is key,' explains Ruihua.
'I think we've achieved what we set out to do. It's been a really inspiring process to be a part of,' she says.
Trusted and independent oversight
With Standards New Zealand providing project management and oversight, this ensures a transparent and robust process. Beginning in 2017 the continuous review process has culminated in a standard that provides a foundation for describing good practice in health and disability services.
Standards New Zealand's project manager Inge Mautz-Cooreman says, 'It's impactful being involved in a standard that will benefit millions of New Zealanders at critical points in their lives. Our role providing independent oversight to establish a consensus built standard, will help bring efficiencies and cultural responsiveness, so that the standard is fit-for-purpose, fair and unbiased.'
Taking effect in 2022
The updated standard will come into effect on 28 February 2022. This gives the more than 650 different service providers six months to prepare for compliance. The Ministry of Health is providing a range of hui and resources to help the sector understand what the updates in the standard mean for them, as well as raising awareness of the standard with the general public.
You can find out more including an introduction by Director-General of Health Dr Ashley Bloomfield, at the Ministry of Health's website.
Services standards - Ministry of Health Manatū Hauora(external link)