Digital and data
Standards open doorways in the digital economy.
Technology touches every part of our world – the way we live, learn, work and socialise. The changing environment of the digital economy is rapidly adopting and innovating new technologies that present many opportunities and challenges. In our hyperconnected world, the security of our information has never been more crucial.
Establishing good practice will be fundamental to succeeding in a data-driven, digitally connected world. Standards help organisations make sense in a complex industry, providing consensus-built, agreed tools and ways of doing things that allow global interoperability, security and innovation to flourish.
The digital economy is the third largest contributor to New Zealand's economy, and standards play a critical role in supporting New Zealand Tech businesses' success.
With New Zealand being such a long distance from trading partners there is a need for strong IT systems that are trusted and can integrate seamlessly and reliably with other countries. Standards ensure interoperability. Alison Holt, International data standards committee member, IT Professionals NZ Board member, business entrepreneur and academic.
We are unrecognizable to a global market without standards. We don't win work because of standards and compliance. But without them we do lose. Andy Prow, CEO RedShield cybersecurity.
Who benefits from Digital and Data standards?
Regulators – Standards provide harmonised solutions that establish a solid technical base that can be used to write and implement ICT-related policy, and help develop technologies that directly benefit them on issues such as identity management and information security
Industry – Aligning to New Zealand and international standards supports businesses to operate digitally worldwide – from protecting reputation, integrity and market credibility, to providing customer and business partner confidence and integrating technology for competitive advantage.
Consumers – Consumers benefit from state-of-the-art devices, better-performing systems, and organisations that work more effectively. What's more, consumers enjoy increased protection of their personal data thanks to the advances in information security achieved through standards.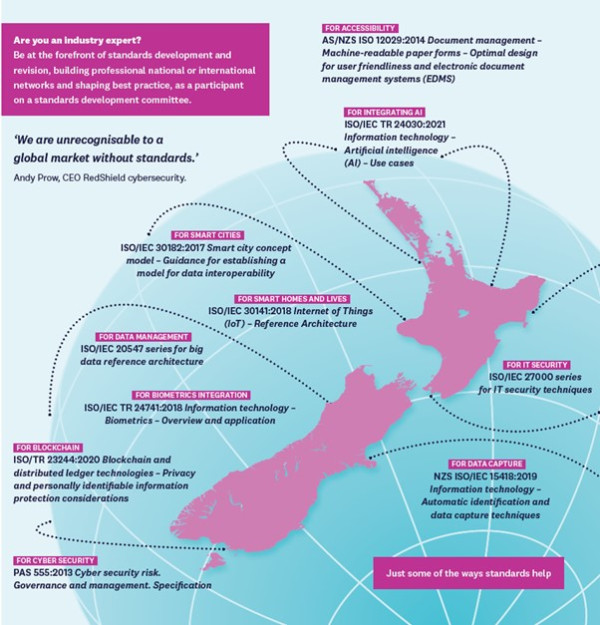 Description of image
Are you an industry expert?
Be at the forefront of standards development and revision, building professional national or international networks and shaping best practice, as a participant on a standards development committee.
'We are unrecognisable to a global market without standards.' - Andy Prow, CEO RedShield cybersecurity.
Just some of the ways standards help:
For accessibility - AS/NZS ISO 12029:2014 Document management – Machine-readable paper forms – Optimal design for user friendliness and electronic document management systems (EDMS)
For integrating AI - ISO/IEC TR 24030:2021 Information technology – Artificial intelligence (AI) – Use cases
For smart cities - ISO/IEC 30182:2017 Smart city concept model – Guidance for establishing a model for data interoperability
For smart homes and lives - ISO/IEC 30141:2018 Internet of Things (IoT) – Reference Architecture
For IT security - ISO/IEC 27000 series for IT security techniques
For data management - ISO/IEC 20547 series for big data reference architecture
For biometrics integration - ISO/IEC TR 24741:2018 Information technology – Biometrics – Overview and application
For blockchain - ISO/TR 23244:2020 Blockchain and distributed ledger technologies – Privacy and personally identifiable information protection considerations
For data capture - NZS ISO/IEC 15418:2019 Information technology – Automatic identification and data capture techniques
For cyber security - PAS 555:2013 Cyber security risk. Governance and management. Specification
Discover more about our work in the sector:
Keep updated on the Digital and Data sector
Sign up to 'Focus on Digital & Data' enewsletter in your free account preferences
Follow specific standards through 'Keep-me-up-to-date'
Use the 'data and digital' tags for related articles under News and Updates
Represent the sector
You could have a role to play in shaping the future of standards you and your peers use. If you have skills, experience or a unique perspective in your industry you could contribute on a standards development committee – whether for New Zealand, joint Australian/New Zealand or international ISO or IEC standards. Complete an expression of interest here:
Join a standards development committee
Sector brochure
Want to commission a standard, get involved in a committee or learn more about the value of standards to the sector? Download our summary brochure for discussion with your business leaders.