Diane Baguley at the table of one of ISO's largest committees – Quality Management standards
Since the first version of ISO 9001 was published in 1987, New Zealand has had an active voice in developing and revising the ISO 9000 family of documents.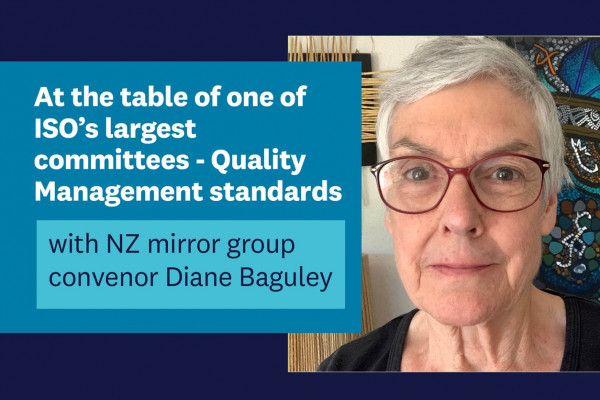 New Zealand's voice is represented by Diane Baguley who explains more about the ISO 9000 family including ISO 9001, which sets minimum requirements for effective quality management of products and services, and is one of the most widely used standards in the world.
Diane is the convenor of New Zealand's mirror group for ISO Technical Committee TC 176 and its sub committees SC1, SC2, and SC3, which are responsible for the ISO 9000 family of international quality management standards. 'I've been involved since 1997 and have been a member of a number of TC 176 working groups, including participation in three revisions of ISO 9001', says Diane, one of our longest running committee members.
'International participation is a great experience, but so is working with the New Zealand group. We each have different strengths so we learn from each other as well as from people around the world'. Diane is also a member of the joint Australia-New Zealand quality management committee. 'Sharing information with Australia is valuable and many of the ISO 9000 family are published as joint standards, such as AS/NZS ISO 9001.'
Protecting quality from macro level design to micro level implementation
'My first involvement with quality management standards was using a Canadian quality assurance standard developed for projects. Once I joined Beca I became particularly interested in applying ISO 9001 in the project and construction sectors. ISO 9001 requirements can be applied by any organisation in the supply chain, from major companies and partnering arrangements right down to small sub-contractors. Good communication across contractual boundaries is vital, often by means of agreed quality plans rather than using ISO 9001 itself. I participated in two revisions of ISO 10005, which provides guidance for quality plans.'
'ISO 9001 is a generic standard for quality management, applicable to all sizes and types of organisations. Small organisations can find standards daunting, so SC2 produced a very affordable Handbook called "ISO 9001:2015 for Small Enterprises – What to do?" that I encourage anyone to look at. It sets out ISO 9001 requirements together with guidance in simple language – in fact many people in larger organisations also find it useful.'
ISO 9001:2015 for Small Enterprises – What to do?
Ninety-two countries and the power of consensus
'TC 176 is one of the largest ISO technical committees. New Zealand is one of 92 countries which are participating members of TC 176, with the right to vote. There are also many observer countries plus liaisons arrangements with a wide range of technical bodies. TC and SC meetings, whether physical or virtual, can be large. Working groups are often relatively small, though in revisions of ISO 9001, say, there are limits to the number of nominations by individual member bodies – otherwise the size would be unworkable', Diane says. 'Then there is the challenge that many people have English as a second language. People need to be committed to consensus and be ready to learn from each other.'
'The meaning of words matters a lot. SC1 deals with the concepts and vocabulary used throughout the ISO 9000 family (see AS/NZS ISO 9000) but some problems arise unexpectedly. I remember an incident during the latest revision of ISO 9001 when a Mexican delegate pointed out that the word 'outcome' (such as what an organisation wants or needs to achieve) as used in previous versions was translated in Spanish with the same word as 'output' (of a process). In many English-speaking countries the words 'outcome' and 'output' have well-understood meanings, but a standard needs to be translated accurately and understood by people reading it in English as a second language. We settled on the word 'result' in place of 'outcome'.
The honest broker
'While we are a small country, we can often be seen as an "honest broker". We can raise contentious subjects within meetings. There are rare situations where a major country might not want to align itself too quickly to a position. As a small country we can put our head above the parapet and if we get knocked down there is no lasting damage. We can also work with other small and developing countries. In the years when I attended physical meetings as a sole delegate from New Zealand I often talked to other sole delegates from countries like Rwanda and Pakistan, as well as from small European countries.'
'I remember when I first attended a TC 176 meeting in 1997, taking the place of the previous New Zealand representative at short notice, I understood very little of what was happening. Why did I continue? Well, the head of the Australian delegation at the time said to me (over a drink in a Copenhagen pub) "you might as well just do this – you will enjoy it". He was right. New Zealand can make a real contribution.'
Future trends
'What next for the ISO 9000 series? At the most recent review, SC2 agreed not to revise the 2015 version of ISO 9001 because it was still felt to be fit for purpose. That does not mean that TC 176 and its SCs are not active. New Zealand's main involvement has been with SC2, which is responsible for ISO 9001, ISO/TS 9002 (providing application guidance for ISO 9001), ISO 9004 (dealing with the quality of an organisation), ISO 10005 and several other standards. We also contribute comments on many supporting standards developed by SC3 - several of their documents are currently at draft stage. At present all meetings are conducted remotely, supplemented by email communication. Given that I am retired, this suits me personally very well!'
'Work is under way reviewing emerging trends in quality management and how those might relate to a future revision of ISO 9001 and the need for further supporting guidance. The important thing to me is that we continue to think about quality management from its first principles. TC 176 has a free brochure on quality management principles and this is something I often use.'
Quality management principles – ISO(external link)
Could you shape the future revision?
'What is involved in being on a standards committee? Does it take a lot of time and what are the benefits? The TC 176 New Zealand mirror committee works by email, with links to documents issued by ISO. As convenor, I understand that members have other commitments – they cannot always be available – and I appreciate their different areas of expertise. Sometimes I direct questions to certain people as a starting point for group discussion. We are all interested in seeing new members. A range of industry representation is useful, but a willingness to work in a group is the most important characteristic. I would also like to see more involvement from people in government agencies.'
'When I started on the committee, my employer Beca was very supportive. They recognised the importance of professional development, allowed me to take time to meet my commitments and paid leave for me to attend meetings. They did this because they valued employee engagement, professional networks and the role of international standards – including "public good" standards which do not have a sector to fund their development. I hope other employers follow the same values.'
'If you want to know more about TC 176 and its subcommittees – their documents, what is under development, what countries and organisations are involved etc, go to their website.'
TC 176: Quality management and quality assurance – ISO(external link)
'I invite anyone even considering it to put an expression of interest forward. I welcome the next generation to enjoy the benefits of shaping future standards.'
If you think you could contribute towards the future of ISO 9000 standards, or other standards in your area of work, you can complete an expression of interest here: