ACABIM and robotics – leading the future of compliant construction
Imagine a world where compliance is automated and integrated in advanced computer software and futuristic robotics – we learned more about this exciting vision at our Techweek2021 event 'Building compliance goes digital'.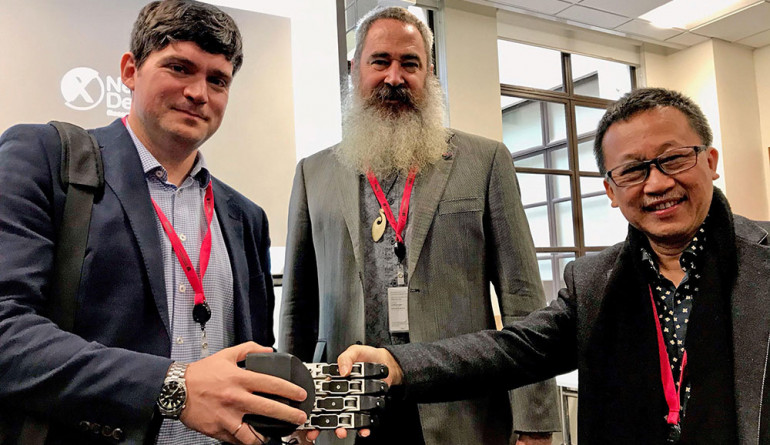 Building information modelling (BIM), the digital rendering of every aspect of a construction project, is commonly used to understand spatial relationships, light analysis, geographic information, and quantities and properties of building components.
But integrating compliance still requires human intervention and time consuming resource to check against standards and code. Up to 200 codes and standards can apply to commercial buildings, requiring tedious checks and audits. Now imagine the potential for computer automation.
Improving efficiency by saving time and linking to one source of truth is at the heart of Compliance Audit Systems' (CAS) new innovative compliance automation technology 'ACABIM'.
Built from real-world experience
Dr Johannes Dimyadi knows first-hand how arduous compliance assessment can be, 'I was a building engineer for 30 years before deciding to do my PhD in computer science to find a better solution in compliance issues.'
Dr Dimyadi's dedication to this cause saw him join Auckland University's Computer science expert Professor Robert Amor and robotics and dexterity pioneer Dr Minas Liarokapis.
'Much of our challenges have been around translation of knowledge into a computable form. This takes a long time, currently around a day per page of a standard. However, once written, the partnership between human expert and computer should bring noticeable benefits to ensure mistakes are not missed in the planning stage, such as egress doors swinging inwards.'
'Our vision is to be able to translate a page in 10-15 minutes, with updates automatically fed into the system and standards as one source of truth for everyone. The team have so far translated a set of priority consenting documents from the New Zealand Building Code as well as those made available by Standards New Zealand, and are looking to undertake more translations in the near future.'
BIM uptake is growing 8% annually with an associated market projected to be around $1 billion across Australasia by 2024. So investments in developing new and efficient means of integrating compliance is a big deal.
'Safety remains a core element of any BIM,' says Dr Amor. 'Calculations by computers can determine how long a fire would take to break out vs how long a given volume of people would take to evacuate. It can check that egresses swing outwards, that there are the right number of doors for egress, and that for vents the ration of openings to floor area is correct. Any areas not compliant will be identified and reports generated.'
'Building compliance checking has been evolving for 50 years, but with ACABIM we see this as the next step in standards integration for efficiency and safety,' says Dr Dimyadi.
Working with robots – the future is here
Standards integration is also key to the work being completed by Dr Liarokapis' team. All innovation starts with a problem or need, and for New Zealand, building affordable and complaint homes quickly is an urgent priority. The vision of his team may sound like science fiction, but the tangible advancements being made for New Zealand are very real.
'Even with larger construction firms there are skilled builders doing very manual tasks. We need more automation which could be brought with robots, who are reliable, fast and could work 24/7 handling dangerous materials and heavy loads or completing boring menial tasks.'
'While the robotics field will require another 20 or 30 years to reach human dexterity, innovative robots that can transform the construction industry are already here. An example is the Autonomous Robotic Assistant (ARoA) platform of the New Dexterity research group (University of Auckland), which can handle 100 kg of weight and be used for the execution dexterous tasks. Larger than an average person and weighing over 200kg, it's an exciting new engineering hardware.'
Supported by software that captures and models compliant human movements and creates a 3D model for augmented reality, Dr Liarokapis sees it one day forming part of a future coordinated workflow involving both humans and robots.
'Robotics will influence a new paradigm. Automation is coming, If we can work on that now we can influence policy, create new upskill opportunities and integrate standards so robotics and software are predictable and safe, compliant and efficient.'
'We don't expect that construction workers will become programmers, but that with kinaesthetic teaching they collaborate with the robot just like a colleague.'
Are you our next innovative partner?
ACABIM is an excellent example of third-parties taking standards and making content more accessible to users. We know finding the specific information right when you need it can sometimes be challenging in real-world situations – that's why our 'Value-Add' programme encourages innovators to 'break the book' in creating better ways to work with standards.
If you or your organization is interested in developing new and better ways to access standards content - beyond the usual books and PDFs - do get in touch. Email us or visit: